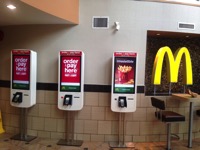 Workers would be paid $13.50 an hour by 2020 under I-1433. 
This is like voting to override the law of gravity. You cannot make low-wage workers more valuable by legislating it. You will either lay low-skilled workers off or replace them with technology. 
Supporters of raising the minimum wage in Washington state turned in more than 360,000 signatures Wednesday in hopes of qualifying a ballot measure that seeks to incrementally increase the state's rate over the next four years to $13.50 an hour.

Twenty boxes of signatures for Initiative 1433 were delivered to the secretary of state's office, where proponents gathered to tout the measure.

Ariana Davis, a grocery worker from Renton who is the sponsor of I-1433, said that "this initiative is going to change the lives of every worker in Washington."

"Passing 1433 is the right thing to do for our economy and for our jobs," she said.

If it qualifies for the ballot and is approved by voters in November, the wage increase would be phased in starting next year, when the statewide rate would increase to $11 an hour. It would increase to $11.50 in 2018, $12 in 2019 and will hit $13.50 an hour in 2020. The measure also would provide paid sick leave to employees who don't currently have it.

Washington's current minimum wage is $9.47 an hour, but the rate is adjusted each year for inflation as measured by the Consumer Price Index for the past 12 months. The yearly recalculation is required by Initiative 688, which was approved by Washington voters in 1998.
Via the Associated Press