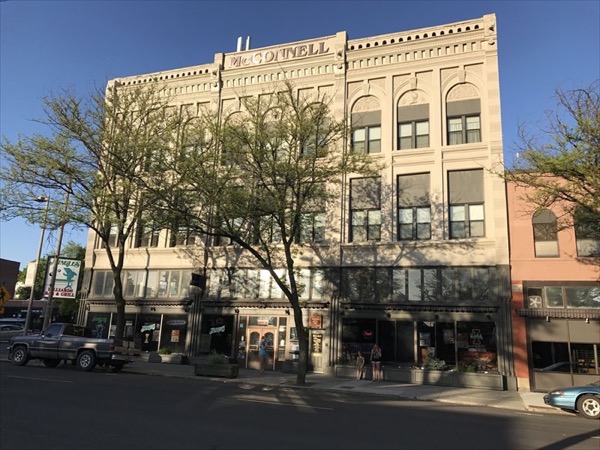 Via the Lewiston Tribune: 
MOSCOW — The CEO of Emsi in Moscow earlier this year bought the McConnell Building on the corner of Main and First streets with plans to improve the historic downtown structure.

Andrew Crapuchettes said he purchased the building where Mingles Bar and Grill is located in May from Spokane developer Ron Wells. Wells owned it for 40 years.

Kestrel Property Management is the property manager and has already started ripping out carpet in the upstairs apartment spaces, refinishing the hardwood floors and adding new coats of paint.

Crapuchettes said he was attracted to the historical significance of the building and hopes to give it proper care.

"It needed more TLC, being a very old building," Crapuchettes said. "And so one of the visions is just how do you take a really old building and go through and do great stuff with it?"

The building was constructed two years after the University of Idaho was established and is named after Idaho's third governor, William John McConnell. Among its historical features is a working elevator from 1920 that has modern safety features.

The 33,000-square-foot building has 34 apartments and six commercial spaces, said Kestrel broker Mike Church. There are three main floors and a mezzanine floor. According to the Latah County Assessor's Office, the building's last valuation was at $1,070,800. Crapuchettes would not share what he paid for the building.

In addition to Mingles, The Loft Salon, Human Touch and Arch Envy are among the businesses located in the building. Crapuchettes said Mingles is on a long-term lease and neither Crapuchettes nor Church indicated any plans for changes in the bar's future.

Crapuchettes said he wants to focus on improving the apartments for the tenants, some of whom have lived there for many years, and to attract new tenants.

"We really want to make sure that it's taken care of and make sure it's one of the great spots for people to stay in town," he said.

Crapuchettes also owns the Jackson Street Silos in Moscow. Additionally, Emsi recently announced it will expand with a 70,000-square-foot building planned for the St. John Hardware and Implement site on Jackson and C streets.

The McConnell Building will have no connection to Emsi, he said. Instead, it is a personal project for Crapuchettes.

"I love this community and I want to buy buildings and make them beautiful," he said. "Especially really cool historic buildings like that. If we can make them nicer, it makes Moscow a better place to live."

Crapuchettes has spoken with some of the tenants living in the McConnell Building apartments, and one told Crapuchettes that living in the middle of downtown with a view of Main Street has improved his well-being.

"Sure he pays rent, but it also is part of his quality of life, so I think that's cool," Crapuchettes said.