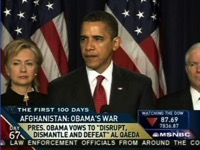 "You break it; you buy it." We broke Iraq & Afghanistan. We are not going to extricate ourselves quickly. 
More on Obama's schizophrenic foreign policy. 
President Barack Obama scrapped plans Wednesday to cut American forces in Afghanistan by half before leaving office, a dispiriting blow to his hopes of extricating the U.S. after 15 years of fighting. He said he'll leave 8,400 troops to address the country's "precarious" security situation.

Obama's new drawdown plan, announced alongside top military leaders, reinforced the likelihood that the U.S. will remain entangled in Afghanistan for years to come as America works to suppress a resurgent Taliban and train a still-struggling Afghan military. Obama said his goal was to ensure the next president has the foundation and flexibility to fight terrorism there "as it evolves."

Obama acknowledged that few Americans might have expected U.S. troops would still be in Afghanistan this long after the 2001 invasion following the 9/11 attacks. But he said perseverance was needed to prevent al-Qaida from regrouping and the Islamic State group from spreading. He said if terrorists regain control of territory, they'll try to attack the U.S. again.

"We cannot allow that to happen. I will not allow that to happen," he declared.

Obama, who had revised the exit plan several times before, had most recently expected to leave 5,500 troops when his term ends in January, down from roughly 9,800 there currently. His move to slow that withdrawal reflected the Afghan military's continuing inability to secure the nation independently, demonstrated by escalating Taliban attacks that have killed scores in recent weeks.

The new plan, announced the day before Obama attends a NATO summit in Poland, marked the culmination of a delicate debate within his administration about how many troops to pull out – if any.
Via AP