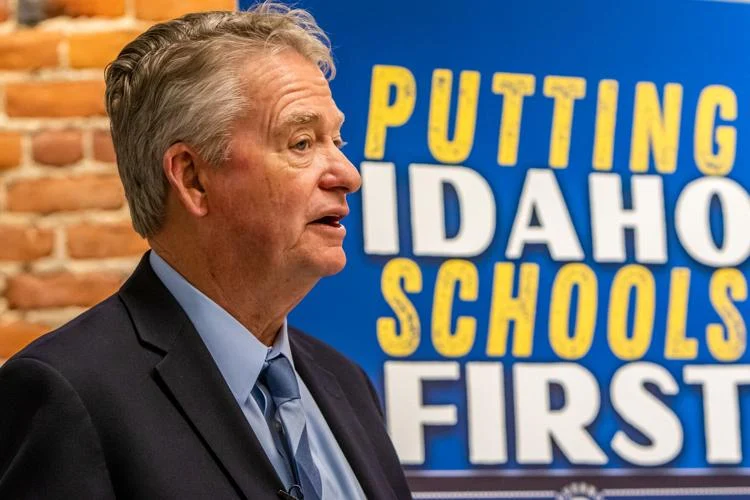 As often with Little, his message is "Republican Lite". 
I'm going to have more to say about his "Empowering Parents Grants" shortly. 
LEWISTON — Idaho Gov. Brad Little came to Lewiston on Friday excited to discuss his agenda for the 2023 legislative session.

Little met with members of the media at the Lewiston Library and talked about his proposed agenda, which includes $145 million for improving teacher pay and classified staff, which he said will place Idaho in the top 10 spots for educator pay in the nation.

"This is a big deal," Little said. "We can put money into teacher pay and this is like doing almost four years at once, the magnitude of it."

Pay will also increase for veteran teachers, as will benefits like health insurance. Little is hopeful these changes will keep teachers in the state and cause more people to choose teaching as a profession. Little noted that the benefit for educators in Lewiston is that pay will be competitive with Clarkston.

"That does two things, A, it's the right thing to do, but B, it means that the bright students here in Lewiston will want to be teachers in Lewiston rather than go across the bridge and teach in Washington," he said.

Qualifying high school students can also receive $8,500 at Idaho universities, community colleges, career technical or workforce training programs with the Go On Program. Little hopes providing that boost to education and training after high school will benefit the workforce, which Little said is needed for Idaho to be successful. For Lewiston, it means students can earn degrees at Lewis-Clark State College and then enter the workforce in jobs like health care and manufacturing without leaving town.

"The combination of investments in teacher pay and the Go On money that's going to be for in-demand careers is really a significant item," Little said. "I don't want people to miss – there were a lot of other things in our budget — those are far and away the big things."

More funds are proposed for classified positions, including bus drivers and janitorial staff, citing concerns he heard from districts over keeping those employees. The districts can then use the rest of the money at their discretion to fill vacant teaching positions.

Little spoke about charter schools and said Idaho families have lots of options of where they send their children to school. Some of the charters are more successful than others, but the Idaho State Public Charter Commission makes sure students are getting educated.

"I've been a school choice advocate for the very early days of charter schools," Little said. "People don't realize that Idaho is one of only a handful of states where you are not tied by your zip code of what school you go to."

The empowering parents grants also give funds to families who want to educate their children at home and provide resources for them, which began last year and will continue to be funded.