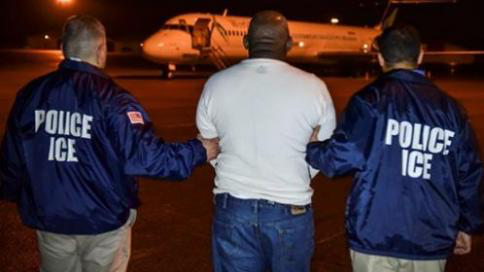 ICE Deports Illegal Alien Wanted For 2012 Murder. Via MRC TV
Immigration officials just booted a Dominican-born illegal alien out of the United States and back to his home country after it was discovered he'd been convicted of murder in the Dominican Republic – in 2012.

According to Immigration and Customs Enforcement officials, 54-year-old Martires Molvan-Figeureo was found guilty of shooting a man unlawfully while he was a member of the Dominican National Police. He was sentenced to 20 years in prison before fleeing to the United States.

However, ICE also stated that Molvan-Figeureo had come into the country legally – meaning that despite having been convicted of a crime and sentenced to two decades in prison in his own country, he was still lawfully admitted into the United States.

The following year, in October of 2013, Interpol issued a red notice for Molvan-Figeureo. Although he'd come into the United States legally, the Dominican man overstayed his visa and had been living in New York until his arrest for immigration violations in January of last year.

Now, more than a year later, Molvan-Figeureo has finally been deported back to the Dominican Republic to face justice.

Contrary to the empty claims made by many left-leaning media talking heads and liberal politicians, the U.S. immigration system has a hefty track record of admitting foreign persons who have criminal records in their home country, largely due to ICE's inability to run complete background checks against foreign criminal database systems.