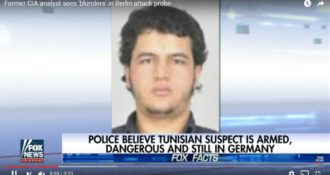 The terrorist suspect who allegedly killed a dozen and wounded many more was already suspected for connections to terrorism and had somehow failed to be deported. According to the Washington Post,
The prime suspect sought in the deadly attack on a Berlin Christmas market — a 24-year-old Tunisian migrant — was the subject of a terrorism probe in Germany earlier this year and was not deported even though his asylum bid was rejected, a senior German official said Wednesday.

His record, however, further deepened the political fallout from Monday's bloodshed — pointing to flaws in the German deportation system and putting a harsh light on Chancellor Angela Merkel's humanitarian bid to open the nation's doors to nearly 1 million asylum seekers last year.

Although the vast majority of those who flooded into Europe were on the move to escape war and unrest, dozens of terrorism suspects have slipped into Germany and neighboring nations posing as migrants. Amri, officials said, was not part of the surge of migrants who entered Europe via the onetime main route from Turkey and Greece — a path that has been now largely cut off.

Rather, he came to Germany last year via Italy, where he apparently had entered as early as 2012. He applied for German asylum but was rejected in June and later faced deportation.

Amri was the subject of a terrorism probe on suspicion of "preparing a serious act of violent subversion," and he had known links to Islamist extremists, authorities said.

Why a failed asylum seeker with such links and no passport was walking German streets is "the question 82 million Germans probably want an answer to," said Rainer Wendt, Chairman of the German Police Union.