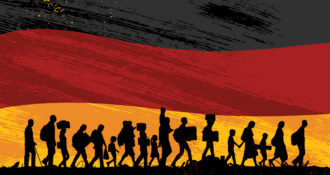 From the Daily Caller News Foundation:
MI6's former head of counter-extremism Richard Barrett said Thursday that German authorities are finding it virtually impossible to keep track of the 7,000 potential terror suspects roaming around the country.

Intelligence failings have been at the forefront of the public's mind following Monday's devastating truck terror attack on a Christmas market in Berlin, leaving 12 dead and 48 injured.

Not only did German authorities arrest the wrong suspect, but they determined that the actual suspect, Anis Amris, a known supporter of the Islamic State and recruiter for the terror group, had been arrested three times in 2016 alone and should have already been deported. Amris is a 24-year-old Tunisian asylum seeker.

Now, police are scrambling to track down Amris and have offered a 100,000 euro award for his capture.