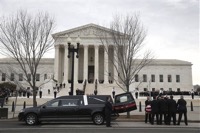 If it's not racist and prejudicial to exclude college applicants based on race, I don't know how anything can be called racist or prejudicial. Affirmative Action is the very definition of systematic racism.

And it pulls off the trick of being racist against everyone all at once. It's racist against white and Asians because it favors other races over them, essentially punishing whites and Asians for being successful. Meanwhile, it's racist against blacks and Hispanics because it patronizes and infantilizes these groups, insinuating that they cannot take care of themselves without special privileges.
Via The Blaze: 
In a major victory for affirmative action, a divided Supreme Court on Thursday upheld the University of Texas admissions program that takes account of race.

The justices voted in favor of the Texas program by a 4-3 vote, an outcome that was dramatically altered by the death of Justice Antonin Scalia, who opposed affirmative action.

The university considers race among many factors in admitting the last quarter of incoming freshmen classes. Texas fills most of the freshman class by guaranteeing admission to students who graduate in the top 10 percent of their Texas high school class.

Justice Anthony Kennedy said in his majority opinion that the Texas plan complied with earlier court rulings allowing colleges to take account of race in pursuit of diversity on campus. "The university has thus met its burden of showing that the admissions policy it used … was narrowly tailored," Kennedy wrote.

The court's three more conservative justices dissented, and Justice Samuel Alito read portions of his 51-page dissent, more than twice as long as Kennedy's opinion, from the bench. "This is affirmative action gone wild," Alito said. The university "relies on a series of unsupported and noxious racial assumptions," he said.

In a separate dissent, Justice Clarence Thomas repeated his view that the Constitution outlaws any use of race in higher education admissions.