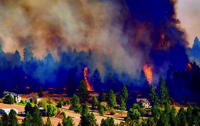 A series of wildfires burning in the Spokane region have destroyed at least 16 homes and continued to grow on Monday.

The fires started Sunday afternoon amid high winds and temperatures in the 90s.

One fire was near Davenport in Lincoln County, just west of Spokane. It had scorched more than nine square miles by Monday morning and destroyed at least six homes, according to the state Department of Natural Resources. The Lincoln County Sheriff's Office said 11 structures had been destroyed, a figure that included homes, garages and outbuildings.

The fire jumped the Spokane River and threatened the small community of Wellpinit on the Spokane Indian Reservation. Residents were told to evacuate after the town lost power.

Another wildfire, south of Spokane near the town of Spangle, destroyed at least 10 homes and numerous other structures on Sunday, according to the Washington State Patrol.
Firefighters were aided by local farmers in building fire lines on Sunday night, the State Patrol said.

"Multiple aircraft will be over the fire today assisting firefighters on the ground," the State Patrol said.

The fire grew to more than six square miles on Monday morning, and some residents of the rural area were ordered to evacuate immediately. No injuries were reported, the State Patrol said.

About 200 firefighters were battling that blaze in timber, brush and grass.

A third fire was burning on the northeast side of Spokane. That fire had scorched 250 acres by Sunday evening and officials said some homes were likely destroyed.

The state's biggest wildfire was near Kahlotus in Franklin County. It had burned more than 34 square miles on Monday and was still growing. Cause of that fire is under investigation.

The fire, raging in the dry brush of the Columbia River Basin, was threatening homes and crops, but had not burned any homes, the State Patrol said.

Another fire was burning north of the town of Northport, near the Canadian border. It was less than one square mile, but was threatening homes and power lines.
Via AP