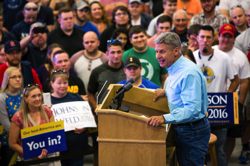 Getting close to that 15% mark. Via the New York Times: 
Gary Johnson, the Libertarian candidate for president, may be on track to win more votes than any third-party candidate in 20 years, if current polling holds up.

…

Originally an entrepreneur, Mr. Johnson has cast himself as an alternative to Mr. Trump by focusing on reducing the size of the government while embracing a hands-off approach to social issues.

He advocates abolishing the income tax, removing regulations on internet companies and moving aggressively to balance the federal budget.

But much of Mr. Johnson's message has focused on social policy. His support for abortion rights and legalized marijuana appeals to many young people, while putting him out of step with his former party.

"When you get past the rhetoric and past the primary politics that Republicans and Democrats each have to play, the real majority of Americans are essentially fiscally responsible and socially inclusive," said Joe Hunter, a spokesman for Mr. Johnson.

"Right now, neither of the two major parties — particularly the Republican Party — is representing that view," Mr. Hunter said.

Mr. Johnson has strongly opposed Mr. Trump's proposal for a wall along the border with Mexico, saying instead that the government should make it easier for immigrants to enter the United States legally.

The ascent of Mr. Johnson — who garnered less than 1 percent of the vote as the Libertarian candidate in 2012 — owes partly to dissatisfaction with Mr. Trump and Mrs. Clinton, who both receive negative ratings from most voters. It also reflects the fact that a plurality of Americans today identify as independents.

A Washington Post/ABC News poll from August put Mr. Johnson's overall support at 8 percent, but showed him earning 14 percent among independents. He is drawing support about equally from voters who would otherwise lean toward Mr. Trump or Mrs. Clinton.

Mr. Johnson is pushing to reach 15 percent in the major national polls, which would qualify him to participate in nationally televised presidential debates.