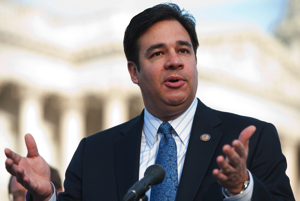 Congressman Raul Labrador has come up with a creative way of campaigning for re-election — without making stump speeches. He had a better idea this time, scheduling 20 "Conversations with the Congressman" events throughout the district during the congressional recess.

His thought was to have a series of small round-table discussions during the middle of the day to allow folks to chat with their congressman – with no microphones, or the usual charts and graphics that typically go with town-hall gatherings. Labrador had to make some adjustments when more than 50 people showed up at a coffee shop in Eagle, and 75 packed into a conference room that afternoon at Meridian City Hall.

Labrador is in his element during these settings; the bigger the crowd, the better. He's great at fielding questions, even better at giving answers that make sense, and he isn't afraid to express disagreements with a questioner. The "conversations" are not meant to be campaign rallies, but he seems to score political points when he has them.

At Eagle and Meridian, there was no mention of his own re-election bid, which allowed Labrador to skip the rhetoric about his conservative record, or the need to elect more like-minded people to Congress. It's a good bet that some, if not most, of the people have not heard of Labrador's Democratic opponent, James Piotrowski. It's a better bet that even fewer could spell the challenger's name.

The only time partisan politics came up was when Labrador was asked about the presidential race. He made it clear that he favored Donald Trump — not because Trump is especially good, but because Hillary Clinton is so awful.

 
In these gatherings, Labrador makes a point to express his gratitude for the opportunity to serve, and that he's glad to help constituents — even those who don't vote for him.

To his credit, Labrador has done what said he would do and more. He came to office wanting to turn establishment politics on its head, and he has made significant progress. He's one of the brains behind the conservative House Freedom Caucus, which helped run House Speaker John Boehner out of office. Labrador isn't universally loved … lightning rods seldom are. Critics attack him for his constant "no" votes and for being too bombastic. He's nothing like fellow Idaho Congressman Mike Simpson, a favorite among moderates and one of the lead supporters of Boehner.

Labrador is not your typical politician looking to stay in office forever. At Eagle, he applauded when a constituent talked about the problems created by professional politicians. Labrador thinks a maximum of 12 years is long enough for any senator or representative.

For Labrador, six years might be long enough, depending on how he feels about running for governor in two years. It's far too early for Labrador to be making announcements about his political future, but he would pose the greatest threat to Lt. Gov. Brad Little, who already has announced his intention to run for the office.

Labrador, who gets plenty of encouragement from conservatives, has a lot to think about. He prides himself as a family man, and Washington political life is not friendly on family life. He talks in nostalgic terms about his days serving in the Idaho Legislature, and how clean the process is compared to Congress. In Idaho, lawmakers debate and vote on stand-alone bills; in Washington, comprehensive "Christmas tree" bills are part of the norm. In Washington, those who dare go against leadership pay a high political price; in Idaho, there's more room for independent thinking.

Serving in Congress and collecting a $174,000 salary is no financial bonanza for Labrador. According to a recent column by the Spokesman-Review's Betsy Russell, Labrador is the sixth-poorest member of Congress, with a net worth of negative $216,000. He wouldn't get rich as governor, but at least, he'd be in Idaho with his family.

The tipping point for Labrador may depend on what he can accomplish working with a Trump or Clinton White House. The Freedom Caucus isn't likely to have much clout with either one in power, which could make a governor's race look pretty attractive.

Again, there's no rush for Labrador to make a decision on 2018. But there's no harm contemplating … a Labrador-Little race certainly would be one for the ages in Idaho politics.
Via Cd'A Press