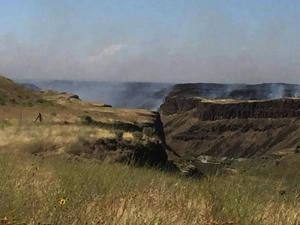 A 6.25-square-mile wildfire near Palouse Falls in southeast Washington was 65 percent contained by Monday night.

The Spokesman-Review reported the blaze was sparked by lightning Sunday near Palouse Falls State Park, a popular hiking destination in Franklin County.

Officials said the fire threatened homes, crops, a fish hatchery, a rail line and a state highway in addition to the state park.

A spokesman said Palouse Falls State Park was evacuated Sunday and reopened late Monday morning. No park facilities were damaged.

The 198-foot falls at the park dumps into a deep gorge upstream from the Snake River.
Via LMT