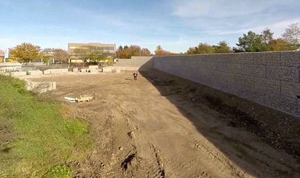 The local Germans in Munich are reacting to Angela Merkel's open border policy to refugees. 
A 12-foot high barrier–higher than the Berlin Wall–is being erected in the German city of Munich to protect locals from young refugees who are set to move into the area.

Locals campaigned for the wall, in the suburb of Neuperlach Süd, after authorities decided that some 160 young unaccompanied migrants will move into a large shelter which is less than 100 metres from a residential estate.

Critics say the wall is further proof of the alienation voters feel with Chancellor Angela Merkel's refugee policy.

…

However residents from the neighbouring housing development from the asylum centre went to court to get the wall built.

One of their arguments for the wall was the fear that the value of their homes would plummet if there was nothing to separate them from the refugees who could be there for years to come.

Local residents said they are fearful of the 'noise and behaviour' of the refugees. The judge of the Administrative Court in Munich confirmed the wall in a judgment–noted that the migrants should not use if for 'ball throwing games' or other 'leisure use'.

The fact that it is higher than the Berlin Wall of the Cold War is not lost on locals and officials. But engineers said it had to be that high to provide an effective sound insulation.

The wall is nearly finished. Locals say they do not care about how it looks; only that it will separate them from the unaccompanied refugees who have often been at the centre of friction with locals in other German towns.