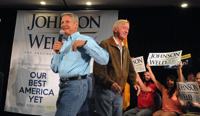 Libertarian Party presidential nominee Gary Johnson said Wednesday he does see an element of "pay to play" in the latest revelations that many donors to the Clinton Foundation also got meetings or schedule phone calls with Hillary Clinton.

"There is an implication that when you give those donations that you will have access," Mr. Johnson said Wednesday on CNN's "New Day." "And that's pay to play."

"There is a big pay for play out there – that you give contribution[s], and contribution[s] give you access," he said. "It doesn't give you action on what it is that you propose, but it's access and it's a constant feeding of that access."

"It's not illegal. None of this is illegal," he said. "It's just that the implication and the fact that it is being paid and that it's unstated. Look, if you don't pay for that access, you don't get the access."

The AP reported Tuesday that at least 85 of 154 people from private interests who met or had phone calls with Mrs. Clinton as secretary of state also donated to the foundation or pledged commitments to international programs. The Clinton campaign said the report is working with an incomplete data set.