Via Gallup: 
A majority of Republicans, 55%, are satisfied with the way things are going in the U.S., up sharply from 22% last month before President Donald Trump's inauguration. Democrats' satisfaction dropped from 27% to 13% in the same period. These shifts resulted in a slight uptick in Americans' overall satisfaction, from 26% to 30%.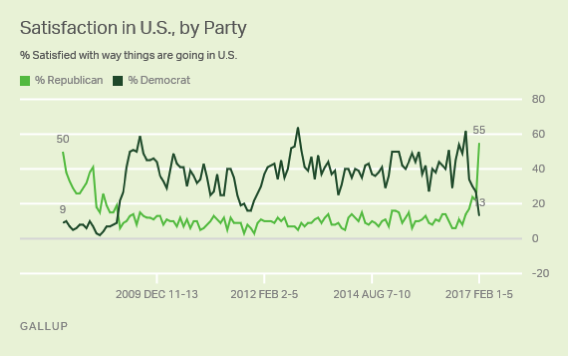 As recently as August 2016, as few as 6% of Republicans were satisfied with the way things were going, and the overall 2016 average before Trump's Nov. 8 election stood at 10%. Satisfaction among Republicans began to rise slowly after Trump's victory, from 17% in mid-November to percentages in the lower 20s in December and January before jumping to 55% this month.

On the other side of the political spectrum, 62% of Democrats were satisfied with the way things were going in the U.S. in early November just before the election. This fell sharply to 34% in mid-November and has continued to drop in the following months.

Though the shift in Republicans' response to this question is historically high, the underlying phenomenon is nothing new. Gallup has observed similar realignments in Democrats' and Republicans' satisfaction with how things are going in the country after a president of a new party takes office.