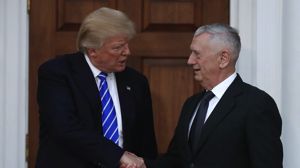 Trump picks General Mattis to be Secretary of Defense. Mattis will need a waiver from Congress before assuming the role. Current law requires that the Secretary of Defense be retired from the military for at least seven years, Mattis has only been retired for three.
Donald Trump on Thursday announced retired Marine Corps Gen. James Mattis as his pick for secretary of defense, tasking the popular military leader with carrying out the president-elect's planned overhaul of Pentagon operations and a shift in national security priorities. 

Speaking at a rally Thursday night in Cincinnati, Trump confirmed 

media reports published earlier in the day

 indicating the president-elect intended to nominate Mattis for the key Cabinet post.  

Neither Mattis nor Trump's transition team responded to Military Times' requests for comment. 


The 66-year-old retired general, who left active duty in 2013 after reportedly falling from favor with the Obama administration over disagreements about Iran, last served as the head of U.S. Central Command. The post afforded him oversight of all military activity in the Middle East, to include the wars in Afghanistan and Iraq. He will require a waiver from Congress to hold the Pentagon's top post because law mandates a seven-year wait between active-duty service and working as defense secretary, a rule designed to reinforce the concept of civilian control of the military. 

Mattis is widely respected on Capitol Hill, and likely won't encounter any difficulty getting confirmed. Senate Armed Services Committee Chairman John McCain, R-Ariz., has praised Mattis as "one of the finest military officers of his generation and an extraordinary leader," and has signaled Senate support for Trump's choice, saying it won't be a problem for Mattis to obtain the waiver he'll need to serve as secretary.