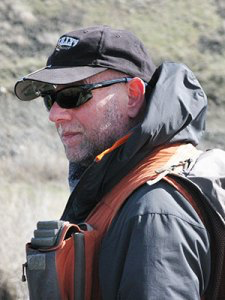 He doesn't have a great batting average.
A Washington State University researcher is once again engaging in the wolf debate and this time the institution is staying silent. Robert Wielgus is the Director of WSU's Large Carnivore Conservation Lab. The Capital Press is reporting that Wielgus sent an email "press release" Monday to the Washington Wolf Advisory Group. Wielgus self-described the "press release" as being from a "private citizen". Wielgus once again restated his position that a rancher chose to put his cattle near a wolf den in Northeastern Washington last year. After some of his is livestock were killed by wolves Washington Department of Fish and Wildlife shot and killed 7 wolves in the Profanity Peak pack last Summer.

In August when Wielgus made the statement he later acknowledged to the Seattle Times that he had no basis in fact to make the claim and WSU responded by disavowing his stance. The same statement from Wielgus last year brought an apology from WSU and a promise to review policies to prevent these type of inaccurate and inappropriate statements from researchers. This time, after the same claim was restated by the same researcher, the spokeswoman in the college that oversees Wielgus says it is a personnel issue and WSU is not commenting. Marta Coursey with the College of Agricultural, Human and Natural Resource Sciences declined to explain how this situation is different from what occurred last September.
Via KQQQ