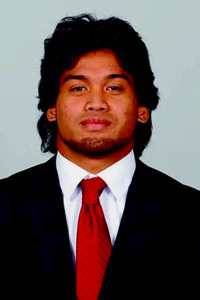 Luani allegedly broke another student's nose in fight.
A Washington State University football player was arrested on suspicion of felony assault early Wednesday morning after allegedly striking at least one individual in a local restaurant and breaking his nose.

Senior Shalom Luani, expected to be a starting safety this season, was taken into custody about 1:30 a.m. Wednesday at Domino's Pizza on Pullman's College Hill.

Pullman Police Cmdr. Chris Tennant said Luani, who had been drinking alcohol, became agitated that his order was taking too long.

"Mr. Luani becoming more frustrated than most," Tennant said.

A store manager said Luani was offered a refund, which he allegedly refused.

Tennant said the situation got out of hand after a 20-year-old WSU student opened the door while he and other customers asked Luani to leave.
Luani allegedly struck the man with an open palm, knocking his head against the door, Tennant said.

The Seattle Times reported that once outside, a fistfight broke out, and Luani allegedly punched the WSU student in the face. The student was taken by private vehicle to Pullman Regional Hospital for treatment, and the hospital confirmed to the police that he had a broken nose.

Meanwhile, the student identified Luani as the person who had hit him, and police arrested Luani outside the Domino's and took him in for questioning. He was photographed, fingerprinted and charged with second degree felony assault before being released on his own recognizance.

According to Tennant, the maximum penalty for second degree felony assault can be a year in jail and a $5,000 fine.

Tennant told The Seattle Times that Luani cooperated fully with Pullman Police officers.

"He admits to being there, he doesn't necessarily admit to breaking a guy's nose, but he admits to being extremely angry," Tennant said. "He admitted to having alcohol last night but he was not falling down drunk or anything."
Via the Daily News