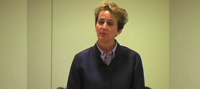 Earlier this year, we chronicled the 10 best-paid union bosses in terms of salary and total compensation. Some earned more than $600,000 in total disbursements in 2015. According to the union's filings with the Department of Labor, Air Line Pilots Association President Timothy Canoll took home $693,534 (Weingarten's $500,000 payday wasn't far behind.) By contrast, the average "chief executive" earned $185,850 in 2015, meaning that 153 union presidents enjoyed better compensation than America's typical CEO.

 
Now this: 
Six of America's most powerful union bosses appeared at the Democratic National Convention in Philadelphia, decrying income inequality and advocating for reckless minimum-wage hikes.

AFL-CIO President Richard Trumka urged voters to "stand up to Wall Street" and "build a new era of shared prosperity." Mary Kay Henry, president of the Service Employees International Union (SEIU), praised the "[fight] for $15 and a union," while Randi Weingarten—president of the American Federation of Teachers (AFT)—railed against "millionaires [growing]…richer at the expense of the middle class." Lily Eskelsen Garcia, president of the National Education President (NEA); Lee Saunders, president of the American Federation of State, County, and Municipal Employees (AFSCME); and Sean McGarvey, president of North America's Building Trades Union (NABTU), all gave remarks alluding to wage stagnation.

Yet a closer look at these union bosses' salaries reveals that they themselves are members of the "one percent" Big Labor so vehemently opposes. All of them can claim total compensation well into the six figures.

As The Washington Free Beacon reported, AFL-CIO President Richard Trumkamade more than $300,000 in 2015, while AFT President Randi Weingarten made off with almost $500,000 in disbursements. SEIU President Mary Kay Henry lives the most modestly in the group, "only" earning about $296,500 last year.
Via Labor Pains