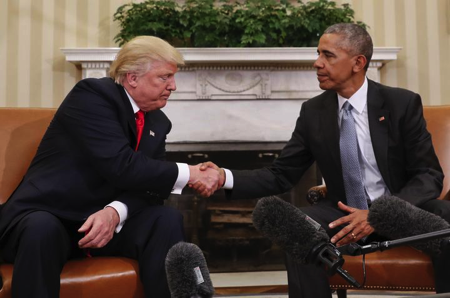 When he was criticized for his sweeping temporary ban on immigrants from seven Muslim-majority nations, President Donald Trump quickly said that Barack Obama had selected the countries.

When he reorganized the National Security Council to add his chief strategist, Trump said Obama had done the same thing.

When he authorized a raid in Yemen that left one Navy SEAL dead, Trump said Obama had planned the operation.

After eight years of trying to delegitimize the nation's first black president, Trump has embraced a new strategy: legitimizing his own fledgling presidency by telling everyone he is merely following in Obama's footsteps.

The strategy has made some Republicans cringe and some Democrats even more boastful of the former president who left office last month with approval ratings that would make Trump envious.

Scott Jennings, a veteran Republican operative who served as political director for President George W. Bush, said stressing the "continuity of government" was valid because presidents inherited a variety of issues from their predecessors.

"It's a change in perspective all presidents have after they become president," Jennings said. But, he said, Trump is also using Obama as "a political shield to make it a bipartisan issue."

Ken Mayer, a political science professor at the University of Wisconsin-Madison who wrote "With the Stroke of a Pen: Executive Orders and Presidential Power," said Trump was making an argument that helped him get through the controversy. "For some people in his base, they don't care about that," he said.