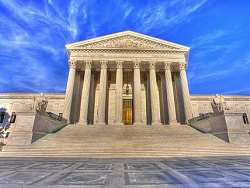 The next president could choose up to five new Supreme Court justices.
John Stossel writes:
"Gridlock is a feature, not a bug," says Ilya Shapiro, editor-in-chief of the Cato Institute's Supreme Court Review journal. "The founding system was not to make government more efficient. It was meant to pass policies that have large agreement that's sustained across time."

Because presidents think Congress is failing when it doesn't pass legislation they like, they nominate Supreme Court justices who may give them leeway. Franklin Roosevelt tried to increase the size of the Court to squeeze in more justices who supported his programs. George W. Bush nominated his own White House Counsel.

The media call President Obama's current nominee, Merrick Garland, "a centrist." But he is "centrist" only in that he sides with Democrats who want to ban guns and Republicans who want government left free to do most anything in Guantanamo Bay. Garland repeatedly supports increased government power—and fewer checks.