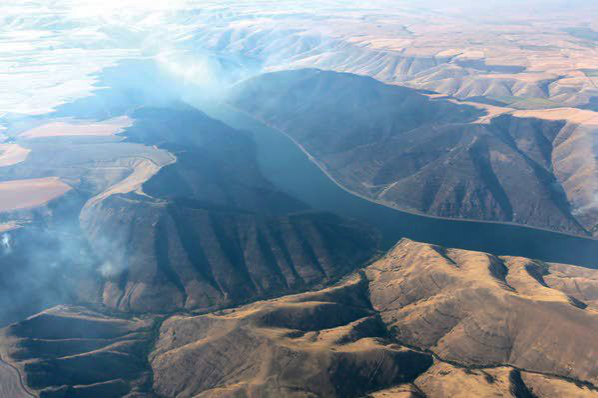 Via the Daily News: 
A fire that began in the Wawawai Canyon and jumped a one-quarter-mile section of the Snake River on Tuesday afternoon is about 10 percent contained and had burned about 10,000 acres as of Wednesday evening.

The State Fire Marshal's Office estimated Tuesday night the fire had burned 11,000 acres, but local and state fire officials lowered the estimate Wednesday.

Three individuals who camped in the area and admitted to spending the night where the fire reportedly started met with Whitman County Sheriff's Deputies voluntarily Wednesday afternoon.

According to the Whitman County Sheriff's Office, those individuals also admitted to building a small campfire in that location.

The Whitman County Sheriff's Office is working with the Garfield County Sheriff's Office and prosecutors from both counties to determine appropriate charges.

The investigation is ongoing.

Fire bans began in the canyon on June 10.

Pullman Fire Chief Mike Heston said state-managed crews arrived at the scene about 9:30 a.m. Wednesday to document the fire and devise a plan to contain it.

Lonnie Click, state incident commander for the Snake River Complex Fire, said by Wednesday afternoon two hand crews, one helicopter, two airplanes and nine strike teams – consisting of about 45 firefighters – arrived to help extinguish the blaze. An additional four strike teams, two hand crews and one helicopter had been requested to help fight the fire.

He said planes would fight the fire until they ran out of daylight.

One outbuilding was burned Tuesday night, but Click said no additional structures are currently threatened and residents who were asked to evacuate have all been allowed to return to their homes.

Heston said firefighters saved four homes overnight by posting up with firetrucks and protecting the residences. He said in some cases the fire made its way around houses and yards, but no homes were lost.

He said one of the primary concerns Wednesday was keeping the fire from reaching Wawawai County Park and its structures.

Click said as the day progressed controlled burns were conducted at the bottom of the canyon, near the county park.

He said there were also crews on site to protect the park's structures. From the air Wednesday, smoke from fire could be seen directly across the road from the green corner the county park sits on along the river.
Click, who came on shift after Heston, said the number of firefighters helping suppress the fire rose to a little more than 300 Wednesday evening. Firefighters from every local fire district in Whitman County and departments in Moscow and Genesee have assisted. Heston said McGregor, Wilber-Ellis and Four Star Supply also helped fight the blaze with their water trucks.

Heston said members of Whitman County Fire District 14 saw the fire ignite on the Whitman County side of the river when embers flew across the river and made a fire-starting landing.

"They were just watching them and couldn't do a thing about it," he said, adding wind blew embers up on a hillside of the canyon.

Heston said Wednesday's wind didn't push the fire like gusts did Tuesday, when a red flag warning had been issued. Such warnings are put in place when there are wind speeds of more than 20 miles per hour, humidity is below 20 percent and temperatures are above 80 degrees.

Heston said a few firetrucks have suffered flat tires and burned out clutches during the incident. Click said he's received a report that some cows on the Garfield County side of the fire have been killed by fire.

Click said it may take some time for the fire to be contained, but he's hoping to have the fire put out before the weekend.

"We are hoping to get some fairly good containment in the next couple days, but we're prepared to stay for a few if that's what it takes," Click said.

A base camp for the fire has been set up at the Garfield County Fairgrounds. Donations are being accepted in Colton and Uniontown Fire District 14 locations, at the District 12 stations in Pullman and Johnson and the Albion Fire Station. Heston said crews need water more than anything.

State Route 194 from Baker Road to Steptoe Canyon Road is closed.