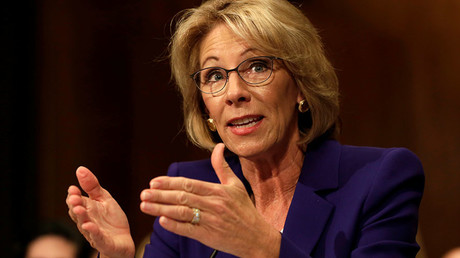 The Senate remained in session all night last night as Democrats protested the nomination of Betsy DeVos for secretary of education. The Senate is scheduled to vote on DeVos's nomination today.
The Senate was in session all night Monday into Tuesday morning as members debated the nomination of Betsy DeVos to be education secretary ahead of her likely confirmation at noon.

DeVos is poised to be confirmed for education secretary by the narrowest possible margin as Vice President Mike Pence is expected to break a potential deadlocked vote.

DeVos, a wealthy GOP donor, has devoted herself to boosting alternatives to public education and sparked concerns among educators that she won't be a strong champion for public schools.

Two GOP senators, Susan Collins of Maine and Lisa Murkowski of Alaska, have announced plans to oppose DeVos in a Senate split 52-48 between Republicans and Democrats. That will leave her with a tie vote if all other Republicans support her and all Democrats oppose her as expected, and will require Pence to put her over the top. A vice president breaking a tie on a Cabinet nomination would be a first in the history of the Senate, according to the Senate historian's office.

The chamber went to brief, intermittent quorum calls as senator after senator completed his or her remarks and yielded the floor to a colleague. And a lone Republican senator, South Carolina's Time Scott, went to the floor to speak, as well, arguing that lawmakers' focus should be not on DeVos, but on ways to improve the education system.
Via Fox News