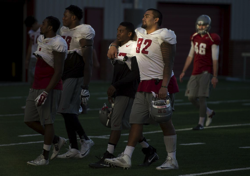 Via the Spokesman Review: 
PULLMAN – On Thursday, Washington State University football star Robert Barber was expelled from school. A day later, the embattled athlete was arrested by Pullman police on felony assault charges.

And at a key moment in Saturday's game against Idaho, Barber blocked a field-goal attempt that resulted in a 72-yard touchdown return, completely shifting the game's momentum in the Cougars' favor.

But it's the momentum that is building off the field, with 29 player arrests in the last four-plus seasons under coach Mike Leach – including two arrests Friday for alleged felony assault – that has WSU answering more questions about the hits players are delivering at parties than the ones they are delivering on the football field. 

The 29 arrests with Leach as coach is a number that leads all NCAA Division I schools. In that same time frame, the Cougars have won 22 games. 

The majority of arrests were for small matters that probably wouldn't attract the notice of police in bigger cities – a minor in possession of alcohol the day before his 21st birthday, for example, or throwing a snowball through a window. Charges have been dismissed in 16 of the 29 arrests under Leach. 

And Leach and Athletic Director Bill Moos argue players are unfairly targeted in a town where they're local celebrities, recognized on sight by many of the 20,000 students. 

But there are also disturbing stories: the young woman who was punched by a player, knocked out cold with a concussion and less than a month later committed suicide. The young fan who never missed a football game in his years at Wazzu, then was allegedly kicked in the jaw by a player when he tried to break up a house party. A walk-on football player who was punched by a teammate – and ended up paying $2,000 out of pocket for his medical treatment. 

Leach responded angrily this week – with his anger directed at the press and Pullman police. 

"The (legal) system has to be checked if with the number of people involved in these incidents, the only ones accused are football players. If that's the case, then something is seriously wrong, which goes far deeper than whatever has even been alleged," the coach said at a news conference. 

A summit at the end of the week involving Pullman police Chief Gary Jenkins, Athletics Director Bill Moos, and WSU President Kirk Schulz produced more soothing words of cooperation and ensuring "fairness is given to all involved."

 
Keep reading!
Four felony arrests in the past month

The string of four felony assault arrests in the past month sparked the intense scrutiny of WSU's program. Suddenly, the Cougars were national news, even a topic on ESPN's "Outside the Lines," but not for their heroics on the field. Far from it.

 

Defensive linemen Robert Barber, 22, and T.J. Fehoko, 19, were both arrested Friday on charges of second-degree assault in connection with an altercation July 23 in Pullman that left one student, Jackson Raney, with a concussion and a second, Alex Rodriguez, with a broken jaw. 

Earlier in the week, linebacker Logan Tago was arrestedon suspicion of felony assault and robbery after he admitted to police that on June 4 he assaulted a man and took his case of beer after the victim refused the football player's demands to hand it over. 

And on Aug. 24, officers arrested safety Shalom Luani on charges of felony assault stemming from a fight outside a local Domino's Pizza that left one man with a broken nose and Luani with a concussion.

Three of those four players took the field against the University of Idaho on Saturday in Pullman; Fehoko practices with the team, but hasn't played. 

Leach on Tuesday read from a prepared statement that accused the Pullman Police Department of unfairly targeting his players.

"It is irresponsible to this town, this community and everybody to have some kind of a double standard where we only focus on one demographic, one group of people and then drag their name through the newspaper with a bunch of irresponsible comments," the coach said.

But the coach wouldn't actually talk to the newspaper – or any media – about specifics. And neither would Schulz. They weren't the only ones who couldn't or wouldn't talk. The team tightly controls which players are allowed to talk to the media, so none of the players involved were available to comment on the incidents or the aftermath.

Pullman police Chief Gary Jenkins said Leach's comments didn't anger him. Jenkins, in fact, thinks a lot of Leach. He considers himself a big fan. 

"I understand where (Leach) is coming from," said Jenkins, who came to Pullman from Claremont, California in 2010. "It seems like a lot at once."

Moos said he considers the investigation of Luani and the altercation that injured Rodriguez differently from the case against Tago, who confessed to stealing the beer. 

"Look, there is no excuse for rude behavior," the athletic director said in an interview with The Spokesman-Review. "But when it's perceived that the people I'm responsible for are the only ones with the rude behavior, that's offensive to me and my coaches. With all these incidents, with the possible exception to the most recent one, there was rude behavior happening by more than those representing Washington State."

Sentence suspended after attack on young woman

On March 4, 2014, starting cornerback Daquawn Brownattended a dance. Witnesses said he began harassing a young woman, a fellow student, who was taking part in a stroll dance. A man asked Brown to leave the woman alone. They shoved each other, then Brown punched the man in the face.

Another young woman rushed into the fray to protect her friend, who was standing near Brown. Two witnesses told police they saw Brown turn and punch the girl who was trying to help her friend – punched her so hard that he knocked her unconscious, according to court records.

The woman sustained a concussion, two loose teeth and had nose bleeds for three days following the punch, according to court records. Less than a month later, she was found dead, apparently from suicide.

A coroner's report indicated the young woman had a history of depression; her grandmother, in a brief interview, said she believed the assault was related to her granddaughter's death. Attempts to reach the student's mother last week were unsuccessful. 

Brown later pleaded guilty to fourth-degree assault and all of his 180-day jail sentence was suspended.

Leach allowed Brown back on the team, and he led the Cougars in 2014 with 82 tackles. The school dismissed him from the team after that season without explanation. He transferred to Fresno State but no longer plays there. Attempts to reach him weren't successful.

Asked why Brown was allowed to play after the assault investigation involving the female student, Moos replied: "You're going to have to talk to Mike about that one. It's hard for me to believe that he just opened the door for him."