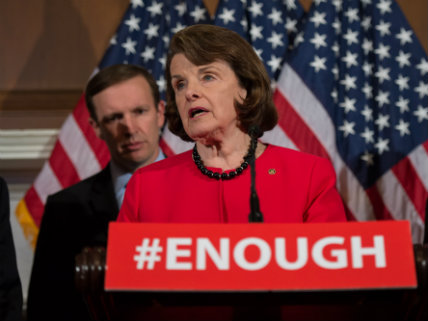 If the government can take away our natural rights to travel and self-defense, can other fundamental rights be far behind? Via Reason Magazine: 
The people in the government who want to control our personal choices are the enemies of freedom. And the enemies of freedom can be very clever and seductive. Last week, these folks, manifesting their lust to keep us dependent upon the government by rejecting the natural right to self-defense, coined a clever phrase: "No fly, no buy." It sounds rational, yet it rejects core American values.

The phrase was pounded home to average Americans during a one-sided 15-hour televised marathon on the floor of the Senate orchestrated by the gun control crowd. The essence of the argument was that stricter laws regarding gun sales would have prevented the massacre at the Pulse nightclub in Orlando, Florida. In gun control advocates' dream world, the self-loathing Islamic State-inspired killer, willing to take 49 innocent lives, would somehow have been unwilling to violate restrictive gun purchase laws; and his obedience to those laws would have saved lives.

Their argument is naive and absurd. A person willing to commit mass murder is surely willing to break the law to acquire the means to commit the murders. So blinded were these senators in their misguided utterances about self-defense that they forgot about the Constitution.

The legislation they offered would have required that people whose names the feds put on a terror watchlist or a no-fly list (these are often done simultaneously) would not be legally able to purchase a gun. The senators summarized this idea dozens of times as "no fly, no buy."

Though this phrase, which was quickly picked up by many of my colleagues in the media, has an easy and simplistic ring to it, it reveals a troubling ideology that profoundly rejects core American values.

When Thomas Jefferson wrote in the Declaration of Independence that we are endowed by our Creator with certain inalienable rights and when the inalienability of our rights was codified in the first 10 amendments to the Constitution, the United States was wedded to the Judeo-Christian principle that our rights stem from our humanity. This was expressly recognized recently by the Supreme Court in District of Columbia v. Heller, in which it held that the right to keep and bear arms is a fundamental personal right, not a gift of the government to a group.