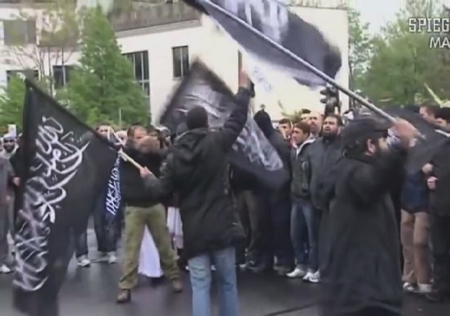 Islamist group buying properties, setting up mosques all across the eastern German state of Saxony
German newspaper Die Welt reported the latest revelations made by Saxony's Intelligence Agency (LfV):
Saxony state's Intelligence Agency is watching the growing influence of radical-Islamic Muslim Brotherhood organisation with great concern.

Capitalising on the lack of prayer rooms for newly-arrived Muslims as part of the refugee influx, Muslim Brotherhood is using organisations like "Saxony's Community Centres" (SBS) to build networks and spread its vision of political Islam, LfV's President Gordian Meyer-Plath said in Dresden. (…)

Currently, buildings are being bought at massive scale to set up mosques or community centres for Muslims. These activities are taking place in several cities including Leipzig, Riesa, Meissen, Pirna, Dresden, Bautzen and Görlitz.

There is no shortage of financial resources, noted Meyer-Plath. "They are going across the state with huge sums of money and buying up real estate."
Via Vijeta Uniyal: 
German intelligence agencies are alarmed over the growing influence of radical Islamist "Muslim Brotherhood" organisation in the state of Saxony. The Islamist group is buying large number of properties and setting up mosques all across the state, Saxony's Office for the Protection of Constitution (LfV) said. "The aim of Muslim Brotherhood is to establish Sharia in Germany," Head of LfV, Gordian Meyer-Plath told German newspaper Die Welt.

Muslim Brotherhood came out of Egypt in 1920s and has influenced Jihadi terrorist movements all across the Muslim world.  ISIS leader Abu Bakr al-Baghdadi and Al Qaeda leader Ayman al-Zawahiri, both got their ideological training as members of Muslim Brotherhood. Gaza-based terrorist outfit Hamas is also an offshoot of Muslim Brotherhood.

With uncontrolled mass-migration from Arab and Muslim majority countries, Germany is opening up itself to the global Jihadi resurgence represented by groups ranging from ISIS to Muslim Brotherhood. German Chancellor Angela Merkel, in midst of her re-election bid, has refused to show any flexibility on her "Refugee Policy". Merkel reiterated again this week that there will be no upper-limit to migrant intake if she wins the parliamentary election this September.