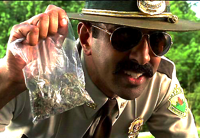 Current law requires law enforcement candidates to be clean of marijuana for at least three years. 
Latah County Sheriff Wayne Rausch told county elected officials and department heads Monday the Idaho Peace Officer Standards and Training Council will push the state Legislature to make it easier to hire deputies who may have used marijuana in the past.

Rausch said law enforcement candidates in Idaho currently can't be considered if they have used marijuana at any point during the previous three years, which makes it difficult to fill his staff.

Rausch said the council may ask the state Legislature next year to pass a bill reducing the time to one year.

Applicants are given polygraph tests, which Rausch said are very accurate, to determine if they have used marijuana.
The Latah County Sheriff's Office is expecting a deputy to resign soon, creating even more of a shortage for the department, which already has two unfilled positions, one unfunded position and an injured deputy, Rausch said.

Rausch said he is an advocate of the change, which would also allow law enforcement departments to make the requirement more than one year as they see fit. Rausch said the proposed bill received unanimous support from members of the Idaho Sheriff's Association last year, but he added police chiefs have had mixed feelings, while Idaho State Police, in general, is not supportive of the bill.

Rausch said he was told many state legislators feel the bill would be a foot in the door to Idaho legalizing marijuana.