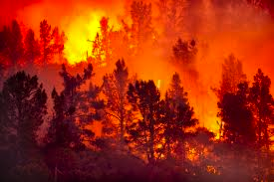 The Idaho Department of Lands believes an arsonist may be responsible for multiple human-caused wildfires in the Kamiah area over the past several years, possibly including some during the destructive 2015 fire season.

Fire investigators for the department visited the Clearwater River Valley last week to investigate the recent Clear Creek 2 Fire, and also to look into some fires that started during last summer's Clearwater Complex. The Clearwater Complex included dozens of fires from Orofino to Syringa that were mostly spawned from an Aug. 10 lightning storm. Many of the fires burned together when a cold front moved through the area. The fires destroyed dozens of homes and covered tens of thousands of acres of state, federal and private land.

In a response to emailed questions, Idaho Department of Lands spokeswoman Sharla Arledge at Boise said the department suspects six of the Clearwater Complex fires were human-caused. Because the investigation is active, she declined to say which of the fires are under suspicion.

Arledge said the department's Maggie Creek Protective Area near Kamiah experienced 12 human-caused fires in 2015, five in 2014, eight in 2013 and 10 in 2012. Arledge noted that just because a fire is human-caused does not mean it was set intentionally. The category includes accidental fires, such as those that start when campfires escape or logging or farming equipment overheats.

However, Arledge said, not all of the human-caused fires have been accidental.

"The IDL believes that there is an arsonist in the area causing some of the fires that we are experiencing," she wrote.

Because of the investigation, she declined to say how many fires are being investigated. Arledge said the investigation is likely to take some time, and investigators won't share information with the public until it is complete.
Via LMT