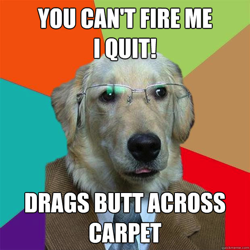 Another stick-in-the-eye for BJ Swanson. "You can't fire me. I quit!"
Via the Moscow-Pullman Daily News. 
Gritman Medical Center board members gathered for a private meeting Wednesday night and approved a vote of confidence in the Gritman Board of Directors and management, according to a written statement by Robin Woods, secretary/treasurer of the Gritman Board of Directors.
 
"The General Members of Gritman Medical Center, Inc. had a very positive, private General Membership meeting and people now understand why it was private – because it included personal and personnel issues," the statement said. "After hearing the facts supported by documentation, the Gritman General Members from the floor moved, seconded and approved a vote of confidence in the Gritman Medical Center Board of Directors and management. The board is considering the next steps and will keep the community updated."
 
The meeting was originally intended to "correct the record" concerning conflicts of interest of board Chair Greg Kimberling and "to solicit a vote from the GMC General Board Members for the removal of BJ Swanson as a member of the GMC Board of Directors and as a General Member of GMC," according to an email from Kara Besst, hospital president and CEO, to the board.

Swanson, who served as board chair from 2001-16, resigned July 3 from the board of directors, the general board, its auxiliary and the Gritman Foundation board before she could be ousted.