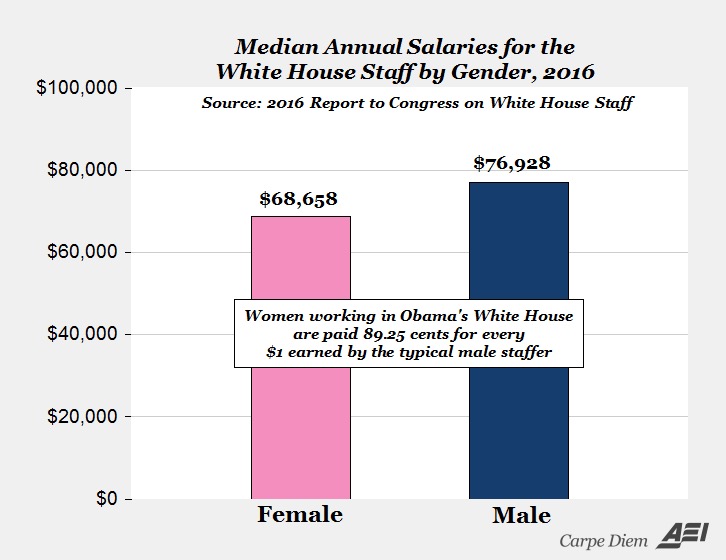 By gender, the median salary for the 271 female White House employees is $68,658 and the median salary for the 198 male staffers is $76,928 (see chart above). Therefore, female staffers in the Obama White House currently earn 89.25% of the median salary for male staffers, or 89.25 cents for every $1 men earn, and there is a 10.75% gender pay gap at the Obama White House. That pay gap is slightly smaller than the 15.8% gender pay gap at the White House last year, but is still more than 2.5 times greater than the average gender pay gap for the Washington, DC labor market of only 4% according to the most recent data available from the Department of Labor.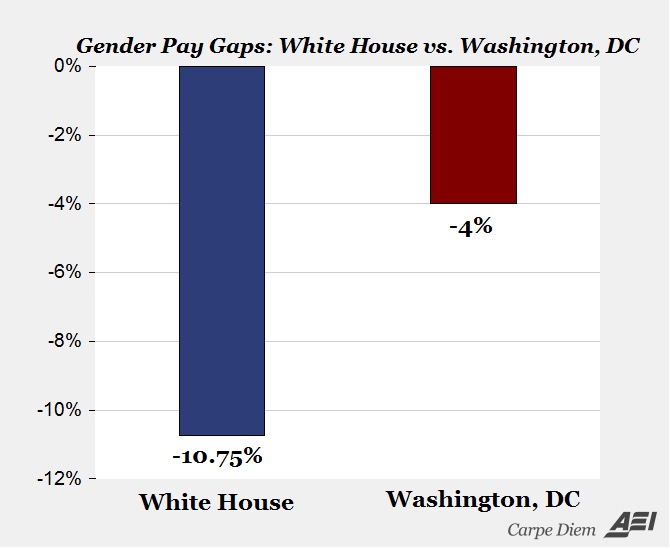 And yet despite the gender pay gap at the White House, Obama makes presidential proclamations every year for National Equal Pay Day, like this one earlier this year to mark April 12 as the calendar day in 2016 that the average woman had to continue working to earn the same income as the average man earned in 2015:

Although small gains have been made in recent years, the typical woman working full-time, year-round earns only 79 cents for every dollar earned by the typical man, and women of color earn even less relative to the typical white, non-Hispanic man — 60 cents on the dollar for the typical black woman and 55 cents on the dollar for the typical Hispanic woman. Women are increasingly the breadwinners of American households, and when they are not paid equally, or are underrepresented in certain higher-paying occupations, their ability to save for retirement is hindered and hardworking families face greater difficulty meeting their basic financial needs. Pay discrimination puts greater strain on families to cover costs like child care or health care, and it holds our economy back from achieving its full potential. We must continue taking action to address issues of equal pay, pay secrecy, pregnancy discrimination, and unconscious bias. The gender pay gap in the United States is among the largest of many industrialized nations, and because women make up nearly half our workforce, this disparity impacts us all. The pay gap between men and women offends our values as Americans, and as long as it exists, our businesses, our communities, and our Nation will suffer the consequences.

I do hereby proclaim April 12, 2016, as National Equal Pay Day. I call upon all Americans to recognize the full value of women's skills and their significant contributions to the labor force, acknowledge the injustice of wage inequality, and join efforts to achieve equal pay.
Via Carpe Diem