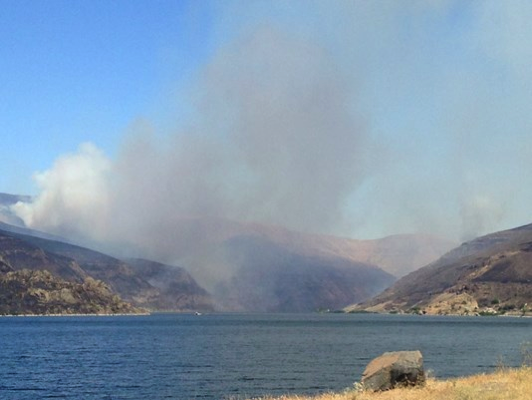 Whitman County sheriff says unidentified suspects may face reckless burning charge. 
It will be at least a week until officials file charges against three individuals who allegedly built a campfire in the area where the Snake River Fire later erupted.

Whitman County Sheriff Brett Myers said the individuals will not be identified until charges are filed. No arrests have been made and no charges have been filed, he said, but he believes the three men in their 20s may be charged with reckless burning or a similar offense.

"This doesn't fit any statute as arson," Myers said, noting a fire must be intentional to qualify as arson.

The blaze, which started on the banks of the Snake River about 20 miles west of Clarkston in Garfield County Tuesday, quickly spread to 11,000 acres because of high winds. It jumped the river at Granite Point and burned into Wawawai Canyon in Whitman County. Myers said witness accounts indicate a campfire had previously been built in the area and was believed to be fully extinguished.

"This fire started in the exact proximity to where these guys were camping," Myers said.

With wind gusts reaching 40 to 50 mph, Myers said "all it takes is one teeny ember" to cause a larger fire to grow.

The Whitman County Sheriff's Office is continuing to work with Garfield County as the investigation continues.

Crews spent Friday mopping up hot spots on the fire that was largely quiet. It grew to 11,362 acres but is now 70 percent contained.

A red flag warning in effect just south of the fire area has prompted fire managers to be prepared for new starts. Brush trucks on the front line of the fire will be on alert to attack any new fires, according to a news release from the Type 3 team overseeing suppression efforts. Some firefighters will begin to demobilize today.