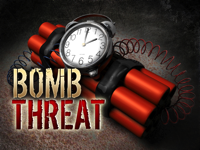 The prosecutor calls it "bomb week," his shorthand for eight school threats – many written in school bathrooms or on notes – over a few days in May that set off evacuations and investigations, parental panic, and the rumor mill of students linked by cellphones and social media in his Ohio county.

Track athletes missed an end-of-season competition, and some high schoolers started carrying their car keys with them instead of leaving them in lockers, just in case, Warren County prosecutor David Fornshell said. One mother complained that a girl who uses an insulin pump had taken it off for gym class and had to evacuate without it.

"Nobody who sends their kids to school should have to go through that kind of stress and that type of disruption," Fornshell said.

Such violent or disruptive threats are increasing nationwide, according to police, school employees, security consultants and others, blamed sometimes on local students and sometimes on outsiders seeking to cause disruptions or a big emergency response.

 
State and local agencies don't track the threats, meaning there's no formal accounting of the collective costs. The disruptions typically aren't long enough to merit makeup classes, but the learning time lost to evacuations and cancellations adds up, as do the hours police spend responding and investigating.

Less measurable but still significant are the ways threats can dent staff and students' sense of security even when they're false alarms, as they almost always are.

"Schools are in a really bad position," said researcher Amy Klinger, of the nonprofit Educator's School Safety Network. "People are going to be mad if you evacuate; people are going to be upset if you don't evacuate."

The number of school bomb threats the last academic year alone, based on media reports, was at least 1,267, roughly twice as many as in 2012-13, said Klinger, who also teaches educational administration at Ohio's Ashland University.

Her group estimates there were about eight bomb threats per school day last year, and that doesn't include other threats of violence and disruption. Massachusetts had the most in that tally at 135 bomb threats, followed by Ohio with 96.

Because administrators and police can't simply ignore threats , they grapple with the fallout while trying to deter copycats.

In Ohio, more than 170 school threats were reported in the 2015-16 school year, according to an Associated Press tally based on police updates and media coverage. Threats of bombs, shootings and unspecified violence were called in, written as notes, scrawled on walls and shared via social media and apps. Over 100 Ohio public school districts, or roughly one in every six districts, dealt with at least one threat, as did a handful of private and charter schools and several college-level facilities.

Ohio-based consulting firm National School Safety and Security Services had flagged the state as having more school threats – 64 – than any other state in the first half of the previous academic year. The firm said it studied over 800 threats around the country in that period, up from 315 in a similar span a year earlier.

At least a couple of the recent Ohio threats occurred one day in late May when dozens of threats were made against schools nationwide as officials investigated whether it might be a case of "swatting," when hoaxers playing online games anonymously make threats online or by phone to trigger big responses from police and SWAT teams. Some of those schools evacuated; others didn't.

Months earlier, an email threatening a large-scale jihadi attack had prompted the Los Angeles Unified School District to cancel classes for a day in December, while school officials in New York City quickly dismissed a similar email as a hoax.

Schools where students and visitors entered freely a decade or two ago now have surveillance cameras, locked doors and special security procedures. The National Association of School Resource Officers estimates the number of such officers in schools has grown to between 14,000 and 20,000, some armed. And teachers are sometimes perceived as first responders.

Lawmakers in Maine, New York, Pennsylvania, Wisconsin and elsewhere have explored strengthening penalties for school threats.

In Ohio, lawmakers are proposing legislation to let schools expel students for months for making certain kinds of threats and have them evaluated to determine whether they're a danger to themselves or others.

The bill, supported by associations representing school boards, superintendents and school business managers, also would let districts and law enforcement agencies seek restitution from a student's parents for the costs of responding to their threat.

One supporter of the measure, Hilliard Superintendent John Marschhausen, whose suburban Columbus district had a student accused of threatening a school shooting, described threats "an all too frequent reality."

At least half of the Ohio threats last school year led to evacuations, dismissals or cancellation of classes or activities, according to AP's analysis.

The frequency of evacuations concerns Lt. Joe Hendry, a veteran Kent State University police officer and a trainer and consultant on threat responses. There's no catch-all response for schools, he said, but he suggests they consider whether it would be better to evaluate the legitimacy of a threat before automatically or habitually evacuating.

Besides the disruption, security experts note that neatly filing out of a building and gathering masses of people in one place potentially puts them in further jeopardy if someone wants to target them.

People intending real violence don't generally call ahead, Hendry said, so "I'm more worried about the threat that I don't know about rather than the threat that I do."

Even the false alarms can have broad consequences, and the prosecutor overseeing the "bomb week" cases is trying to drive home that point.

A handful of students were blamed for those threats, including a 12-year-old girl. Fornshell said he would ask a judge to make those found responsible for evacuations write handwritten apology letters to each of the hundreds of affected families in the district – perhaps 1,500 or more, depending on the district – in addition to time in juvenile detention or any other discipline.

"My hope is that it gives them a better appreciation of how wide-reaching their conduct was and how much disruption is actually caused," Fornshell said.
Via the AP