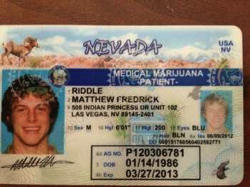 Yesterday a federal appeals court ruled that banning gun sales to people who hold medical marijuana cards, whether or not they actually use marijuana, does not violate their Second Amendment rights. In reaching that conclusion, the U.S. Court of Appeals for the 9th Circuit relied on antiquated, scientifically unsupportable assumptions about the violent tendencies of cannabis consumers.

The case, Wilson v. Lynch, involves a Nevada woman, Rowan Wilson, who in 2011 tried to buy a firearm from a gun shop in Mound House, a tiny town in Lyon County, but was turned away because the owner, Frederick Hauser, knew she had recently obtained a medical marijuana registry card from the state Department of Health and Human Services. Hauser had just received a letter from the Bureau of Alcohol, Tobacco, Firearms, and Explosives (ATF) that said anyone who uses marijuana as a medicine, "regardless of whether his or her State has passed legislation authorizing marijuana use for medicinal purposes," qualifies as an "unlawful user of a controlled substance" and is therefore forbidden to buy or possess guns under 18 USC 922. The ATF added that "if you are aware that the potential transferee is in possession of a card authorizing the possession and use of
marijuana under State law, then you have 'reasonable cause to believe' that the person is an unlawful user of a controlled substance," meaning "you may not transfer firearms or ammunition to the person." Since violating that edict is a felony punishable by up to 10 years in prison, Hauser was understandably reluctant to sell Wilson a gun.
Via Reason Magazine