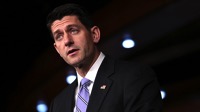 Via The Hill: 
Already dealing with threats of another Democratic floor protest, Speaker Paul Ryan (R-Wis.) is now facing defections from the right on a GOP gun bill that conservatives complain is unconstitutional.

The handful of Republican naysayers has raised doubts about whether Ryan can muster enough votes from his own party to pass the gun provision. Backed by the National Rifle Association (NRA), the GOP legislation was favored by Republican leaders as a more acceptable alternative to Democratic gun-control bills.

But Rep. Thomas Massie (R-Ky.), an opponent of the GOP provision, said: "I think it's dead."

The gun provision was part of a larger GOP anti-terrorism package that was set to hit the floor on Wednesday. But that vote was postponed to allow GOP lawmakers, returning from the week-long July Fourth recess, more time to study and discuss the package, said Rules Chairman Pete Sessions (R-Texas).

"Enough members don't have enough information," Sessions told reporters as he left a GOP leadership meeting in the Speaker's suite. "What we're trying to do is work toward resolution where we're all on the same page."

…

Other conservative lawmakers opposed to the GOP gun bill included Reps. Tim Huelskamp (R-Kansas) and Raul Labrador (R-Idaho).