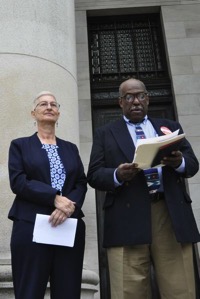 Washington voters dissatisfied with their likely choices from the nation's two major parties will have more options on the November ballot than Donald Trump and Hillary Clinton.

Slates from three minor parties – Socialist Workers, Socialism & Liberation and Green – already have qualified for the state's general election ballot by submitting 1,000 valid signatures from Washington voters. More third-party candidates are likely if 2016 is like previous presidential election years, when as many as a dozen presidential choices were available to Washington voters.

On Tuesday, members of the Socialist Workers Party hinted that the Secretary of State's Office had tried to keep them off the ballot, saying they were initially told about half of their 1,700 signatures were valid.

"In effect, they were striking some 800 people who had signed to support our right to be on the ballot," Mary Martin, the party's gubernatorial candidate, said during a news conference on the Capitol steps, not far from the Secretary of State's Office.

Some of those signatures had been gathered as candidates went door-to-door in Spokane and other cities, or on picket lines like the one set up for the Triumph Composite strike and lockout, Martin said. Party officials collected letters of protest from supporters and contacted their attorneys.