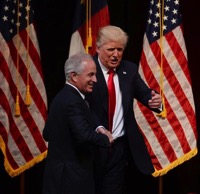 Donald Trump blasted rival Hillary Clinton's use of a private email server at a packed rally at Raleigh's Memorial Auditorium on Tuesday evening, saying the FBI's recommendation not to pursue criminal charges shows "the system is rigged."

Tuesday's rally is Trump's second visit to North Carolina since he became the presumptive Republican nominee in a presidential race that is expected to be closely contested in the Tar Heel State.

The billionaire spoke on the same day Clinton, the former secretary of state, held her first campaign appearance with President Barack Obama in Charlotte, N.C.

"Essentially, I thought, everybody thought, she was guilty," Trump said of Clinton, speaking inside the auditorium at downtown's Duke Energy Center for the Performing Arts. "It turned out that we're not going to press charges. It's really amazing. We have a rigged system, folks."

Trump said he was concerned by the FBI's finding that the email server might have been hacked by a "hostile actor."

"Our enemies may have a blackmail file on crooked Hillary, and this alone means that she should not be allowed to serve as president," he said.