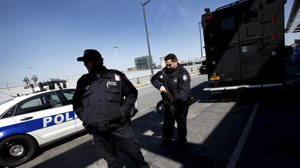 In 10 years, US drug agents have seized nearly $210 million from 5,200 Americans at airports and Amtrak train stations, a USA Today report revealed. Federal agents allegedly collected private data from paid informants, but only two people were real suspects.
Sources have told USA Today that Drug Enforcement Administration (DEA) profiled random people at nearly every major US airline at 15 airports and Amtrak train across the country.

In most cases, people stopped for questioning fell under suspicion for traveling one-way to California, for paying for a ticket in cash or having checked luggage.

According to one court filing seen by USA Today, in 2009 DEA agents took $44,010 from two people traveling on a train to Denver after picking them out during "a routine review of the computerized travel manifest for Amtrak."

In another case, Christelle Tillerson was forced to hand over $25,000 found in her suitcase after being questioned by the agents prior to boarding a flight from Detroit to Chicago. The Justice Department claimed that Tillerson turned into a suspect after the DEA "received information" that she was going to Los Angeles, but had a one-way ticket. Despite her profile of a former convict, she was not even questioned in relation to her drug trafficking case.

In 2015, traveler Zane Young was traveling from Orlando to Los Angeles when he suddenly became a suspected drug courier. The agents decided he fit the profile because had bought a last-minute, one-way ticket from Orlando to Las Vegas. Agents seized $36,000 from Young's bags.

In neither of the two cases, profiled people were formally detained, arrested or charged, so as thousands of other single-outed passengers.

In fact, in most cases, the agents gave the suspected drug couriers a receipt for the cash and let them go without ever charging them with a crime.

USA Today identified 87 cases in recent years, but said that there many more travelers-agents encounters and money seizures because very few of them ever make it to court. In fewer cases, people managed to get at least some of their money back.

Thus, Tillerson managed to fight $21,000 back as $4,000 the government decided to withhold as "a small percentage of the funds should be forfeited." Zane Young only got a half of the sum seized from him back.



Via RT