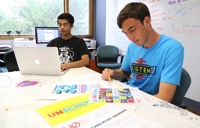 They should add "no learning" to that list. It's like letting the monkeys be in charge of the zoo. From ID Ed News: 
Imagine a high school driven by student decisions. It's coming to Boise.

It's called "unschool"— a place with no subjects, teachers, grades, classrooms or tuition. Instead, the school features projects, coaches and the design-thinking process.

"Our challenge is explaining to people that this is real," said Teresa Poppen, the executive director of One Stone. "Some parents are excited and others are skeptical."

One Stone, a student-run service organization, is creating this new school and the J.A. and Kathryn Albertson Family Foundation is donating $2.1 million to help its launch, along with other private donors.

"This is a trend that is established, but hasn't reached Idaho," said Charla Cooper, a special project coordinator at One Stone.