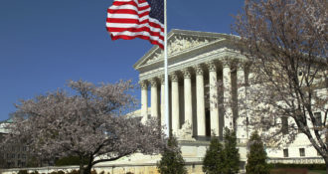 From the Daily Caller News Foundation:
President-elect Donald Trump's transition team has narrowed its list of possible Supreme Court nominees to five names, according to veteran CBS News correspondent Jan Crawford.

Final names under consideration are Judge William Pryor of the 11th U.S. Circuit Court of Appeals, Judge Diane Sykes of the 7th U.S. Circuit Court of Appeals, Judge Thomas Hardiman of the 3rd U.S. Circuit Court of Appeals, Judge Steven Colloton of the 8th U.S. Circuit Court of Appeals, and Justice Joan Larsen of the Michigan Supreme Court. All of the potential nominees have impeccable qualifications, Crawford notes.

"You can't argue with their credentials," she said.

Pryor, 54, has served on the federal bench since his appointment by President George W. Bush in 2005. During his tenure he has written opinions upholding voter ID laws, striking down an Affordable Care Act (ACA) formula which mandated that religiously-affiliated organizations must provide contraceptives to employees, and affirming the right of students in public schools to organize gay-straight alliances. (RELATED: One Of The Most Conservative Judges In America Just Sided With A Gay-Straight Alliance)
Sykes, 58, is also a Bush-appointee who joined the Chicago-based 7th Circuit in 2004. She has written opinions barring enforcement of the ACA's birth control mandate, and striking down an oft-used sentencing guideline as unconstitutionally vague. She is a graduate of Marquette University Law School and previously served on the Wisconsin Supreme Court.
Hardiman, 51, another Bush-appointee, was a federal district judge in western Pennsylvania prior to his elevation to the 3rd Circuit in 2007. Since becoming an appeals judge he has written an opinion affirming the constitutionality of jail house strip-searches and dissented from a ruling upholding a state law requiring citizens applying for a firearms license to demonstrate a justifiable need to own a gun. Two of his opinions have been reviewed by the Supreme Court. Both were affirmed. He is a graduate of Georgetown University Law Center.
Colloton, 53, was appointed to the 8th Circuit by President Bush in 2003. Colloton has a record generally friendly to business. Colloton authored opinions vacating a ruling which found that Tyson Foods violated the Fair Labor Standards Act, and another opinion which tossed out an $8 million award for two whistleblowers who helped expose Cisco Systems, Inc. He clerked for Chief Justice William Rehnquist and worked for Ken Starr in the 1990s. He is a graduate of Yale Law School.
Larsen, 48, was appointed to the Michigan Supreme Court by Gov. Rick Snyder in 2015. She was previously a law professor at the University of Michigan School of Law and was assistant attorney general in the U.S. Department of Justice's Office of Legal Counsel during the Bush administration. She clerked for Justice Antonin Scalia. She is a graduate of Northwestern University Pritzker School of Law.

A ninth justice is not expected to join the Supreme Court before its current term ends in June.