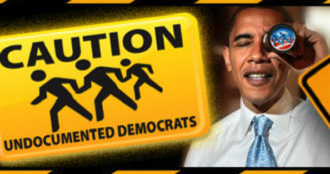 Via the San Jose Mercury News: 
On the day that California officials implemented a controversial law that allows undocumented residents to obtain driver's licenses, DMV offices throughout the state were packed with immigrants looking to take advantage of the opportunity.

Two years after the implementation of AB 60 on Jan. 1, 2015, an estimated 806,000 undocumented residents have received driver's licenses, according to Department of Motor Vehicles statistics this month. About 14,000 of these licenses were issued in November alone, the DMV said.

…

Critics also point to another state "motor-voter" law, AB 1461, that starting in 2017 will automatically register most licensed California drivers to vote, arguing it could lead to election fraud if non-citizens barred from voting in federal elections become registered. State officials said there are safeguards in the system to prevent undocumented licensees from being registered to vote.

The DMV said law enforcement agencies, including U.S. Immigration and Customs Enforcement, can obtain driver's license information — such as name, gender/description, address, date of birth and driver license number — through certain data-sharing systems. But the information doesn't indicate their immigration status or whether they received licenses under AB60.