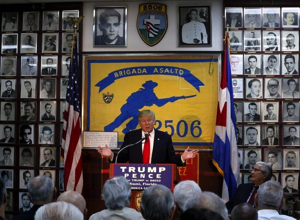 Strategically, Obama really should have done this after the elections. 
Hillary Clinton has lost ground to Donald Trump in must-win Florida after he dashed into Miami to pick up support from Cuban-American voters, many of whom are angry with President Barack Obama's new friendship with Cuba.

They appear to be taking it out on Clinton.

Clinton's once-growing lead in the critical swing state had dropped to 1.6 percentage points at the end of the week, according to an average of state polls compiled by Real Clear Politics. It had been 3.3 percentage points, boosting confidence that she could win the state for Democrats. One new poll has Trump ahead by 2 percentage points.

Boosted by the endorsement of Miami's Bay of Pigs Veterans Association, Trump strode through South Florida on Tuesday courting Latinos, and especially the traditionally conservative Cuban-Americans, by taking a tougher stance on Cuban relations.

"The United States should not prop up the Castro regime economically and politically, as Obama has done and as Hillary Clinton plans to do," Trump said at Little Havana's Bay of Pigs museum. "They don't know how to make a good deal, and they wouldn't know how to make a good deal if it was staring at them in the face."

He met with the mother of a Brothers to the Rescue pilot who was shot down by the Cuban government over the Florida Straits and told a Spanish-language radio station, Univision's Radio Mambí 710 AM, that the White House rapprochement was unfair to Cubans in Florida.