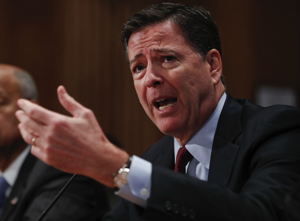 I'm guessing here, but I bet the FBI knew that the news of the emails was going to leak, and they wanted to get in front of it rather than being accused of covering for Hillary.
The FBI agents investigating Hillary Clinton's use of a private email server knew early this month that messages recovered in a separate probe might be germane to their case, but they waited weeks before briefing the FBI director, according to people familiar with the case.

FBI Director James B. Comey has written that he was informed of the development Thursday, and he sent a letter to legislators the next day letting them know that he thought the team should take "appropriate investigative steps designed to allow investigators to review these emails."

That missive ignited a political firestorm less than two weeks before the election. Almost instantly, Comey came under intense criticism for his timing and for bucking the Justice Department's guidance not to tell Congress about the development.

Given that the Clinton email team knew for weeks that it may have cause to resume its work, it is unclear why investigators did not tell Comey sooner. People familiar with the case said they had known about the messages since soon after New York FBI agents seized a computer related to their investigation into former congressman Anthony Weiner (D-N.Y.), who is alleged to have exchanged explicit messages with a 15-year-old girl. Weiner is the estranged husband of longtime Clinton aide Huma Abedin, and federal law enforcement officials said they think the computer was used by both of them.
Via WaPo