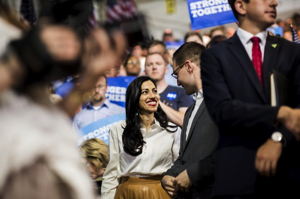 Top Hillary Clinton aide Huma Abedin has told people she is unsure how her emails could have ended up on a device she viewed as her husband's computer, the seizure of which has reignited the Clinton email investigation, according to a person familiar with the investigation and civil litigation over the matter.

The person, who would not discuss the case unless granted anonymity, said Abedin was not a regular user of the computer, and even when she agreed to turn over emails to the State Department for federal records purposes, her lawyers did not search it for materials, not believing any of her messages to be there.

That could be a significant oversight if Abedin's work messages were indeed on the computer of her estranged husband, former congressman Anthony Weiner, who is under investigation for allegedly exchanging lewd messages with a 15-year-old girl. So far, it is unclear what — if any — new, work-related messages were found by authorities. The person said the FBI had not contacted Abedin about its latest discovery, and she was unsure what the bureau had discovered.

[Justice officials warned FBI that Comey's decision to update Congress was not consistent with department policy]

According to federal law enforcement officials, investigators found thousands of messages on Weiner's computer that they believe to be potentially relevant to the separate, Clinton email investigation. How they are relevant — or if they are significant in any respect — remains unknown.
Via WaPo