Have you noticed how the mantra "Religion of Peace"™ hasn't been used much by the media in recent months?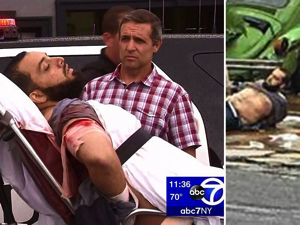 LINDEN, N.J. – A New Jersey police officer responding to a call about a hoodied vagrant curled up asleep in a bar doorway roused him and quickly recognized the bearded face of perhaps the most wanted man in America.

Ahmad Khan Rahami – identified in an FBI bulletin just hours earlier as a man wanted in the weekend bombings in New York City and New Jersey – pulled a gun, shot the officer and triggered a running gun battle in the street that ended with Rahami wounded and in custody Monday, authorities said.

A bloodied Rahami was loaded into the back of an ambulance, just 50 hours after the first blast that started it all.

 

Rahami, 28, a naturalized U.S. citizen from Afghanistan who lived with his Muslim family in Elizabeth, N.J., underwent surgery for a gunshot wound to the leg as authorities began drawing up charges in a case that spread fear across the New York area and revived anxiety about homegrown terrorism.

New York Mayor Bill de Blasio said officials have every reason to believe the series of bombings "was an act of terror," though investigators said Rahami's exact motive isn't yet clear. With Rahami's arrest, officials said they have no indication there are more bombs or suspects to find, though they cautioned that they are still investigating.