From CBS: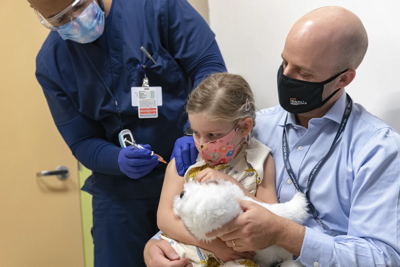 Pfizer and BioNTech are testing a third dose of their Covid-19 vaccine in an ongoing trial of children ages 6 months to under 5 years after the companies found that the two-dose regimen didn't generate a strong enough immune response in some children, the companies announced Friday.

The change to the trial protocol means that the companies won't have data to submit to regulators until the first half of 2022. That's a change from earlier this month, when Pfizer CEO Albert Bourla said the company could have data on young kids by the end of this year.

In a news release posted Friday, the companies said two doses of the vaccine generated a strong immune response in kids under age 2, comparable to what was seen in a trial of 16- to 25-year-olds, but not in the cohort of children ages 2 to under 5. 

Kathrin Jansen, Pfizer's head of vaccine research, said on a conference call with investors Friday that data on variants, including omicron, suggest that people vaccinated with three doses of the vaccine may have a higher degree of protection than those with two doses.

"Therefore, we have decided to modify each of the pediatric studies to incorporate a third dose to the series and seek licensure for a three-dose series rather than a two-dose series as originally anticipated," Jansen said.