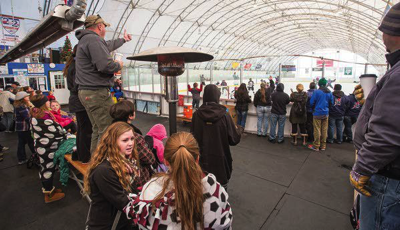 Why should taxpayers be funding this?
Tony Mangini, vice president of the Palouse Ice Rink board, will try to turn 10 years of talk about a new facility into action when he goes before the Moscow City Council tonight and asks the city to pledge $1 million.

Mangini said Palouse Ice Rink has $200,000 in cash and $200,000 in pledges toward a $3.6 million replacement rink in the Latah County Fairgrounds at 1021 Harold St.

"We're trying to create some leverage," Mangini said. "We've got a lot of community members who have expressed support toward the project but to get people to actually want to commit their money they want to know that it's actually going to happen"

Mangini said that if the City Council pledges $1 million, then the funds would be made available after Palouse Ice Rink acquires the other $2.6 million that would be needed to build the structure.

The $1 million would come from Moscow's Hamilton Fund, which has about a $2.9 million balance.

Previous Hamilton Fund expenditures include construction and operation costs of the Hamilton Indoor Recreation Center and participation in the construction costs of the Moscow School District Community Playfields.
"People like the idea of building the rink," Mangini said. "It's just difficult to find the resources. Most of the people involved are volunteers so there's some degree of turnover."

Mangini said the current rink, built in 2001 and intended to be temporary, is a tent structure that covers a sheet of ice three-quarters the size of a standard rink. He said the intention was always to eventually build a permanent structure.

Mangini said Palouse Ice Rink spent $5,000 last summer to buy used dasher boards – boards around the perimeter of an ice rink where advertising is typically displayed – and the glass that sits atop them from Spokane Arena. New boards and glass would have cost $195,000, he said.

"That was kind of a big step for us," Mangini said. "We made an acquisition of resources, got a significantly reduced price. Hopefully it sends a message to our users and the community that we're serious about it. We're not trying to talk about it. There's no point in buying the dasher boards if we didn't believe we were going to try and make something happen."

Mangini said construction would begin in the spring of 2018 if the $3.6 million is raised.

Construction is planned on the site of the existing rink, so whenever construction begins, Mangini said, spring youth hockey seasons might have to be cut short, so construction can be complete by October.