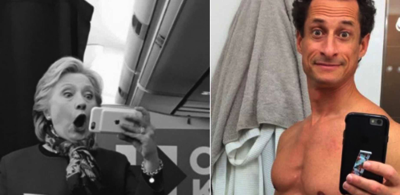 Information discovered during inquiry into Weiner case
The FBI is investigating whether there is classified information in new emails uncovered during the sexting investigation of disgraced former Congressman Anthony Weiner, the estranged husband of one of Hillary Clinton's closest aides.

FBI Director James Comey told Congress in a letter that the emails prompted investigators to take another look at whether classified information had been mishandled, which had been the focus of its recently closed criminal probe into Clinton's use of a private email server. Comey couldn't guarantee that the latest focus of the investigation would be finished before Election Day.

Clinton said Friday that "the American people deserve to get the full and complete facts immediately. She urged the FBI to "explain this issue in question, whatever it is, without any delay."

"Let's get it out," she said.

Comey did not provide details about the emails, but a U.S. official told The Associated Press that the emails emerged through the FBI's separate sexting probe of Weiner, who is separated from Clinton confidant Huma Abedin. She served as deputy chief of staff at the State Department and is still a key player in Clinton's presidential campaign. The two separated earlier this year after Weiner was caught in 2011, 2013 and again in 2016 sending sexually explicit text messages and photographs of himself undressed to numerous women.

Federal authorities in New York and North Carolina are investigating online communications between Weiner and a 15-year-old girl. The U.S. official was familiar with the investigation but was not authorized to discuss the matter by name and spoke on condition of anonymity.