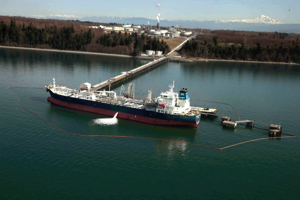 You can see how dangerous this is for the human race! 
BELLINGHAM, Wash. – The Whatcom County Council has temporarily banned new permit applications for projects that ship crude oil and other unrefined fossil fuels out of Cherry Point.

The 60-day moratorium unanimously approved Tuesday night prevents shipments or exports of fuels such as methane, coal or crude oil from tar sands not processed in that industrial zone north of Bellingham.
You don't process it here, you don't move it. 
The council said the emergency measure is needed to protect public health and safety, while the county weighs land-use changes at Cherry Point that could restrict future crude oil and other fossil fuel exports.

In its ordinance, the council cited the dangers of increased shipments of crude oil by train and pipeline through the area and the need to prevent new permit applications while changes are considered. The moratorium, however, wouldn't affect current shipments or projects.
Which does two things. It ensures that the good-old-boys who already use the port are set; and secondly, it reduces competition, keeping prices higher for those good-old-boys. 
Convenient. 
Cherry Point, located on Puget Sound with access to deep waters for shipping, is the site of an aluminum smelter and two oil refineries. In recent years, BP and Phillips 66 have expanded their facilities to accept crude oil shipments by train.

In May, the U.S. Army Corps of Engineers denied a permit for a $700 million project to build the nation's largest coal-export terminal at Cherry Point. The Lummi tribe successfully argued the project would interfere with its treaty-protected fishing rights.