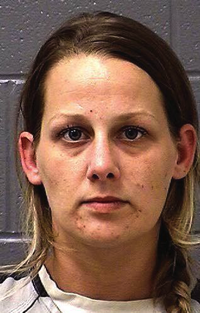 See the irony? She could have "legally" murdered her unborn baby, and that would have been heralded by the progressives. And even an After-Birth-Abortion would be considered an option.  
A Lewiston woman who allegedly used methamphetamine and morphine during her pregnancy could spend 10 years in jail if she is found guilty of injuring her child.

Ashli L. Blimka, 31, was bound over Wednesday to 2nd District Court on a felony charge of injuring her infant daughter, who allegedly went through drug withdrawal symptoms after being born in March at St. Joseph Regional Medical Center.

Lewiston police detective Cody Bloomsburg, who was called to investigate Blimka at the hospital last spring, said that the child was very small at birth and that Blimka allegedly told him she had used drugs until a day before she delivered the baby, March 15, through C-section.

"She said she had used morphine the day before," Bloomsburg said during testimony at Wednesday's preliminary hearing. "She said she had used methamphetamine."
Note to my liberal readers: I'm not defending what she did, nor injury to the baby (before or after birth). I'm pointing out the inconsistency in your positions.