It takes a village™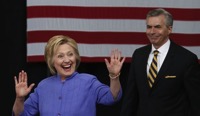 Hillary Clinton's presidential campaign rolled out a multimillion-dollar ad campaign this week in eight battleground states across the country, offering an early glimpse of what's likely to be an unprecedented advertising war leading up to the November election.

The commercials — which will air in Colorado, Florida, Ohio, Virginia, North Carolina, Nevada, Iowa and New Hampshire — focus mostly on Mrs. Clinton's time at the Children's Defense Fund, her efforts to pass the Children's Health Insurance Program and other related work.

"For Hillary, it's always been about the kids," one of the ads says.

The campaign said the advertising blitz is part of an "eight-figure, initial six-week television buy," hinting that much more ad spending isn't far down the road.
While the ads aren't directly geared toward attacking presumptive Republican presidential nominee Donald Trump, the Clinton campaign does believe it can use the ads to drive home its broader message.

The ads "will lay out the choice voters face in this election between Hillary Clinton who has spent her life fighting for families and children and Donald Trump, who has always put himself first," the campaign said in a statement Thursday morning.

Republicans blasted the new ad buy and said it's designed to distract from scandals facing Mrs. Clinton.

"Recycling debunked falsehoods about her biography won't make voters forget that Hillary Clinton is still facing an FBI investigation into her illicit email server and that her corrupt family foundation took millions of dollars from foreign governments that oppress women and help support terrorism," Republican National Committee spokesman Michael Short said in a statement.